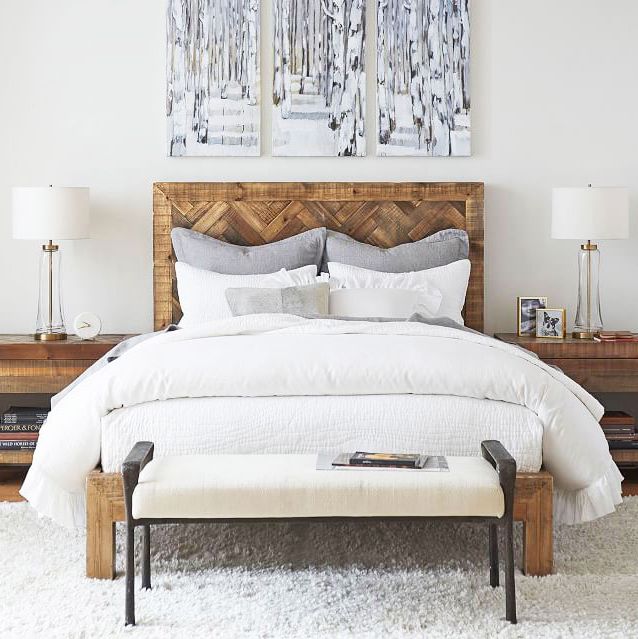 If your bedroom has the space for it, a bedroom bench (also known as an end-of-bed bench) is one of those pieces that can tie a space together while also being quite functional — though not as a place to pile up clothes or laundry that you should otherwise be putting away. Bedroom benches are better used as "a place to set your decorative pillows at night when you need to sleep," according to Joshua Jones, a designer at the online interior-design service Decorist, or "as a halfway point or 'step' for some pets that may have difficulty jumping into bed on their own." Depending on the size of your pet (and how pristine you want to keep the bench), they can even be used as spots for furry friends to sleep at the foot of a bed, or, of course, for human seating, too.
In choosing an end-of-bed bench for your space, you'll want to consider how a bench's material will suit your needs: Upholstered benches, for instance, will usually be softer for pets or people to sit on, while wooden benches will often look a little sleeker or, if they have woven seats, more bohemian. If you don't want your bedroom to look too matchy-matchy, Decorist's Casey Hardin suggests "contrasting the bench with the material of your bed to ensure that it adds visual interest — for example, if you have an upholstered bed, try a wood bench; alternately, a wood bed would pair well with a fabric bench." The size of a bench in proportion to your bed matters, too. Says Jones: "I would recommend a bench around 45 inches long for a queen bed and between 60–65 inches for a king-size bed."
To help you find the right end-of-bed bench for your bedroom, we asked Jones, Hardin, and 12 other interior-design experts about their favorites. Read on for their picks, which we've organized by size (the best for queen beds and king beds) as well as material to help you shop around. We've also noted the benches' weight limits, when applicable.
For queen- and full-size beds, which are typically no longer than 60 inches wide, our experts suggest going for a bench that's between 45–50 inches. All the benches below are within that ballpark (we've noted which are slightly smaller or larger).
Photo: Retailers
"For a smaller bedroom where you want that polished touch of a bench at the end of the bed but can't do anything too bulky," Katherine Tlapa, a creative stylist at online interior-design service Modsy, recommends this woven bench from Urban Outfitters. Made with mango wood, the bench has a seat that's woven from jute, making it minimal and light, according to Tlapa, who adds it has a slightly smaller footprint (it's 42 inches wide). This bench also comes recommended by Decorist designer Christina Manzo, who says its design will "complement a variety of spaces," noting that its smaller size means you can "easily use it as an entryway bench," too, should you ever tire of it in a bedroom.
Manzo and Jessie Yoon, a Decorist designer and the founder of interior-design firm Casa Nolita, both told us that this end-of-bed bench from Safavieh would make a good option for those who like the look of a wooden bench but seek a bit more comfort when it comes to seating. While predominantly made of wood, the bench — which can support up to 300 pounds, according to the retailer — has an upholstered velvet seat that both experts say give it a bit more comfort and an antique-y appearance. Yoon calls it Parisian, while Manzo describes its look as modern vintage, noting the bench "feels found and collected."
Another wooden bench that incorporates other materials, this one with a leather seat and metal leg,s also comes recommended by two experts: Yoon and Devin Shaffer, the lead sales designer at online interior-design service Decorilla. Yoon says its "interesting details like the slim, black-finished legs and cushion top" definitely make this sleeker-looking than the above bench, noting that the cushioned-leather seat makes it a bit more comfortable for sitting (though it's probably not the best material for pets). Shaffer says the bench feels like something out of "an industrial loft," adding its low profile makes it an ideal spot to stack your decorative pillows come bedtime. At 39-inches wide, it's among the smallest on this list, but it's still suitable to plop at the foot of a queen bed, according to the folks who recommended it. It can support up to 330 pounds, according to the retailer.
We've written a lot about Alvar Aalto's furniture, particularly the designer's minimalist stools (and their dupes), which are beloved by small-space experts. This wooden Aalto bench, which comes recommended by interior stylist and photographer Tommy Lei, has the same sort of pared-down aesthetic of the stools — which is one reason why Lei simply calls the piece "timeless." At 44-inches wide, it would also be a good choice for smaller bedrooms, according to Lei, who adds that the bench's birch wood is "naturally very calming" to look at.
Here's another wooden bench inspired by an iconic chair, namely, Swiss architect Pierre Jeanneret's lounge chair. It comes recommended by Modsy creative stylist Karina Lameraner, who says that the piece's natural materials make it especially striking. Indeed, with its chunkier acacia wood frame and woven rattan seat, this may be even more interesting to look at than the Aalto bench. It's definitely an investment piece, though — and likely a bench you'd use to temporarily stow pillows or other lighter things; while the rattan seat is supportive, it's not exactly designed for heavy use (or for pets).
No, this bench is not covered in cobwebs — its seat is actually formed by woven white leather, making it another atypical-looking option. Manzo told us about it, saying that even though its woven leather seat stands out, the bench's otherwise minimal design allows it to blend into a room. While a seat made of woven cowhide leather weave might sound delicate, the bench has a weight capacity of 500 pounds, according to the retailer.
Upholstered benches will typically have comfier, fabric-covered seats (and sometimes bodies, as is the case with this one), so they may be a better option if you have a pet that will use the bench or if you plan to sit on one regularly. Havenly designer Lauren Cox recommends this upholstered end-of-bed bench from West Elm: "I love the price point and slim frame" — it's 42 inches wide — "that allows it to fit in nearly any bedroom." Upholstered in twill, the bench has a sturdy hardwood frame and a "high resiliency" foam cushion, according to the retailer; Cox says it will add "a ton of coziness to a bedroom." In addition to the light gray shown, it's also available in indigo.
Photo: Retailers
Right Meets Left Interior Design founder Courtney McLeod and Modsy's Alessandra Wood both told us about this chubby-looking (in a good way) bench that's covered in a faux suede. Wood notes that an upholstered bench like this is especially great for pets who need a little help hopping onto your bed (if you allow it) and won't "slide around once they make the jump." Another detail that makes this bench pet-friendly is that it stands shorter than 18 inches — the maximum height she says to go for if you're looking for a bench furry friends can use, too. "It's a great piece for pets, as it's soft, not too high, and won't wobble with a jump," she adds.
This end-of-bed bench has a French-country look that makes it seem like something pulled straight from the set of a Nancy Meyers movie (or, in other words, it looks more expensive than it is). Manzo is a fan, telling us it is a versatile choice because, while its fabric looks like pricey linen, it's actually made made of polyester that feels like linen but is way more durable. For that reason, it would be a great option for pet owners or folks looking for an end-of-bed bench they can really wear in.
For something super-retro, McLeod says "this bench, with its bold, yellow velvet upholstery and polished metal frame, has loads of glam style." Its rounded corners make it even more "fun and unexpected," though, at 52 inches, it's a bit longer and would probably work best at the foot of a queen bed as opposed to a full one. According to the retailer, the bench can support up to 250 pounds.
This even-less-expensive upholstered bench with a gleaming chrome base comes recommended by interior designer Kendall Wilkinson. The faux leather cushion (which also comes in black) sits atop crossed sled legs that she says make it look "cool and modern." The bench can support up to 220 pounds, according to the retailer.
For a little less than twice the price, you can get this Crate & Barrel bench upholstered in genuine leather that Wilkinson promises is "so durable." That leather, she adds, can come in 11 different colors, making this an option you can truly customize for most any space. (Because each bench is made-to-order, though, they can take between ten and 14 weeks to produce, according to the retailer.) Crate & Barrel says the 46-inch wide bench is made to accommodate two seated adults.
This bench recommended by Havenly designer Brady Burke is less hefty than some of the other upholstered on our list. He "loves how the soft ivory fabric softens the bronzed aluminum frame." Its white cushion "has a bit of texture," he adds, but the color means it will be harder to keep clean, making it a better option for pillows or blankets than four-legged friends. The bench is plenty sturdy, though, with a metal frame that can support the weight of two adults, according to Pottery Barn.
While the end-of-bed benches we've shown thus far have storage in the form of their seats, Shaffer points out that you can also get styles designed to stow even more stuff, like this upholstered bench with a base that lifts to reveal an interior storage bin. He says a bench like this is ideal for those "struggling to know where to store off-season clothing and accessories." Shaffer thinks that the bench's fabric complements its polished-steel legs, adding that its charming cutouts in the armrests make the bench — which AllModern says can support up to 300 pounds — look far more sophisticated than something used to store last season's clothes. "You would never know that the main purpose of this bench is to hide things," he promises.
Lameraner agrees that a bench designed with hidden storage can be even more functional: "Not only will it add an extra seat, but also a great space to tuck away pillows or extra clutter." More affordable than the AllModern bench above, her recommendation from Living Spaces has a streamlined shape that she says makes it suitable for lots of different bedrooms. In addition to the gray color shown, the bench is also available in sand.
The most design-y upholstered bench (for the foot of a queen-size bed) of the bunch, Lei calls this a "Danish beauty with dashing curves." The asymmetrical iron frame makes the bench rather sculptural, and its seat is upholstered in a cotton-blended cushion that should be comfortable enough for sitting (but the bench's biggest appeal is clearly its unique look). At 43 inches, Lei describes the bench as moderately sized and says it would look best at the foot of a "platform or levitating bed frame that is streamlined."
King-size beds are typically around 80-inches wide, which is why Havenly's Heather Goerzen suggests looking for an end-of-bed bench no smaller than 60-inches wide (she's "partial to ones that are closer to 70 inches," but Wilkinson notes that you want to ensure there is some air at either end of the bench to avoid making the setup feel too crowded). Most of the benches below fall between 60–70 inches, but we've noted any that may be longer or shorter.
Technically a picnic bench, this geometric wooden style has an eye-catching "architectural shape," according to Yoon, who recommends it. The triangular legs are something you don't see a lot and the fact that you can get this in seven colors — including lighter pastels like purple and sky blue — make it even more unusual. Yoon adds that the "timeless and modern bench can easily be incorporated into various styles of bedroom." At 54 inches, it's slightly more compact than other options but not too small to pair with a king bed. It has a weight capacity of 600 pounds, according to the retailer — more than any of the other benches on this list.
This wooden bench with a seat and back woven from seagrass has what Goerzen describes as an "organic, artisan appeal." Its construction suggests it may be best used for sitting, though because it has a back, you'll want to make sure the top of the bench is lower than your bed. The bench can support 300 pounds, according to Pottery Barn.
Photo: Retailers
This bench, which you can get in oak or walnut, comes recommended by Havenly designer Melissa Wagner. It has a super simple look that reminds us of the Aalto bench, with a seat you can "toss your throw pillows on top of when you crawl into bed each night" and a bottom shelf that offers space to store stuff you might also want to show off, like "your collection of throw blankets and slippers," according to Wagner. It's currently available for pre-order and is estimated to ship next month, according to the retailer.
"The depth of this bench is incredible," says Manzo (its seat measures 24-inches deep). It's also on the low end, making it ideal for placing at the base of a platform bed. While its legs and base are wood, the upholstered cushion (which is available in dark gray in addition to the ivory shown) accounts for much of the bench's body. On top of being deep and low, the seat's fabric is a durable polyester, and it attaches to the base with velcro — all details that make this bench super-functional for pet-owners.
The Miles bench from Castlery is available in 63 and 51 inch lengths, making it a bench you can use at the foot of both king and queen beds. Like the Article bench above, its body is wood (acacia, specifically) but its seat is upholstered in gray fabric. (The brand advertises the bench for use at a dining table, suggesting its seat is plenty comfortable to sit on.) Lei likes how "the roundedness makes it more inviting" than an austere, square-cornered bench, calling the piece "very versatile, so it'll blend in even if the decor is more eclectic."
Photo: Retailers
A third upholstered bench with a wooden frame, this one from Anthropologie, comes recommended by Goerzen for its "coastal vibes with a folklore feel." The cushion's perfectly faded stripes make it seem more found (at a super-cool thrift store) than bought brand new, and she says the print makes the bench "easy to mix with solids and patterns alike" when it comes to bedding. But the cushion, according to the brand, should be professionally cleaned — meaning this may not be the best for pets. At 59 inches, it's slightly on the shorter side, but it won't look tiny at the foot of a king.
Tlapa says this bench "makes for a cozy place to sit" thanks to its tufted, upholstered body, which is covered in pink linen. She recommends it to anyone looking for a bench that can also add a pop of color to a bedroom, adding that the piece's "classic form makes it timeless" and something you can hang onto even if you change decor schemes.
Wilkinson says this more modern-looking bench is "clean and classic and works with almost any style of decor." Adding to its versatility is the fact that you can customize its fabric, with the ability to choose everything from durable canvas (great for pet-owners) to smooth velvet. (While there are a couple of ready-to-ship fabric options, a made-to-order bench will take between six and nine weeks for delivery.) At roughly 59 inches, the bench is a hair on the smaller side, but Wikinson assures it'll work at the end of king — and even California-king — beds.
Photo: Retailers
Another customizable option, this Joybird bench recommended by Schaffer can be made in some 50-plus fabrics, many of which are also pet (and kid) friendly. Its higher arms mean anything you might toss on it (like pillows or blankets) have less chance of sliding off, and the bench — which can support up to 500 pounds, according to the retailer — comes with two cushions that make it even cozier for humans or animals to plop down on.
At 73 inches, this bench is long, but it's still shorter than your average 80-inch king bed. Lei loves how it "adds the right touch of old Hollywood regency glamor with its tuft and beautiful sea-foam color." It's almost too elegant for storing things beyond the occasional pillow at night (and definitely too elegant for Fido), but is definitely one of those benches that can tie a whole room together. According to the retailer, the sleek-looking bench can hold up to an impressive 440 pounds.
Lameraner told us about this bench upholstered in a bolder striped fabric that we think would contrast very nicely against a bed appointed in crisp white sheets. She explains that its "simple and elegant box frame design" includes slender wire legs that support the comfortable seat, which is covered in a cotton-and-jute fabric.
Even though this bench combines oak, stainless steel, and upholstery, there's something pleasingly simple about it. "Industrial chic with a touch of mid-century," is how Wilkinson describes the 59-inch bench, adding that the "mixed materials and soft gray cushion make it an interesting piece" to look at. The upholstery is a sturdy polyester-acrylic blend, suggesting the cushion can withstand some wear and tear.
The Strategist is designed to surface the most useful, expert recommendations for things to buy across the vast e-commerce landscape. Some of our latest conquests include the best acne treatments, rolling luggage, pillows for side sleepers, natural anxiety remedies, and bath towels. We update links when possible, but note that deals can expire and all prices are subject to change.