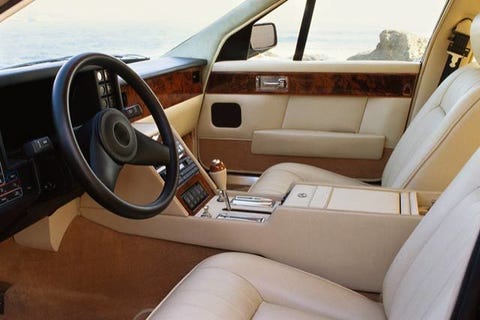 Car Culture / Getty Images
Interior work gets expensive in a hurry. Restoring all that upholstery, carpet, and trim can rival the cost of an engine rebuild—or a trip to St. Barts—by the time you're done. Which is why auto parts stores are filled with products promising to bring new-car look (and smell) back to your cruddy cabin on the cheap. And so, with a modest budget, I decided to see how far back I could turn back the clock on my 1993 Bronco's shabby interior.
Step 1: Cover the Seats
ProElite 500 Series Seat Covers
The Bronco's seats look like they tried to break up a fight between two rabid wolverines, too far gone for any leather spray to save. Time for seat covers. Options included Hawaiian motifs, wetsuit neoprene, or that old northeastern Saab tenure-track English-professor standby, sheepskin. Cabbies: You're on to something with those acupressure beads. Aiming to match the factory interior rather than make a statement, I bought a pair of tweedy-tasteful ProElite 500s. Turns out, this is one of the best bang-for-the-buck upgrades you can make. Mine will shroud the Bronco's upholstery until I find a pair of F-150 King Ranch seats on eBay.
Step 2: Clean the Rugs
Turtle Wax Power Out Carpet & Mats Cleaner
The first owner must've smoked a pack a day through the grunge era, sold the car to someone who spilled a bottle of Surge while worrying about Y2K, and the guy I bought it from apparently left the truck parked outside in the rain with the roof off. Wait, that was me. Whatever the case, you have options. The Power Out can comes with a removable plastic brush to massage the foam into the carpet. Somehow, it actually lifted dirt out of the fibers while the foam devoured stains I thought were permanent. The carpets don't look new, but the Power Out took about 15 years off their perceived age. It's like Botox for your rugs.
Step 3: Shine the Trim
Griot's Garage Interior Cleaner
"Perfect for use on your vehicle's vinyl, cloth, headliner, and leather," reads the bottle. "Also excellent around your garage, shop, and home." It's everything but a dessert topping. Not exactly. It left the upholstered door panels looking like a wet cat, and no amount could budge a discoloration on the dash, perhaps a melted lollipop circa 2004. Unlike other cleaners that just coat surfaces with shiny oil, Griot's seemed to actually clean the trim, but it didn't match the grime-busting horsepower of more caustic agents I've used. This stuff is really for the owner who doesn't let the interior get out of control in the first place.
Step 4: De-Funk the Whole Thing
Turtle Wax Power Out Odor-X
The interior cleaned and the seats looking presentable, there was just one final step: aromatherapy, administered by spray bottle. With Odor-X, Turtle Wax purports to replicate the alluring off-gassing of new plastics and upholstery, the scent we call New-Car Smell. In practice, the smell is closer to a mildly floral air freshener. Which isn't bad. But if you want new-car smell, you're going to need to spend a lot more than $6. And in general, unless your car reeks like Randy Johnson's spittoon, you can skip this step. I got more of my money's worth from the visual and tactile improvements that other products provided.
---