The IC Rating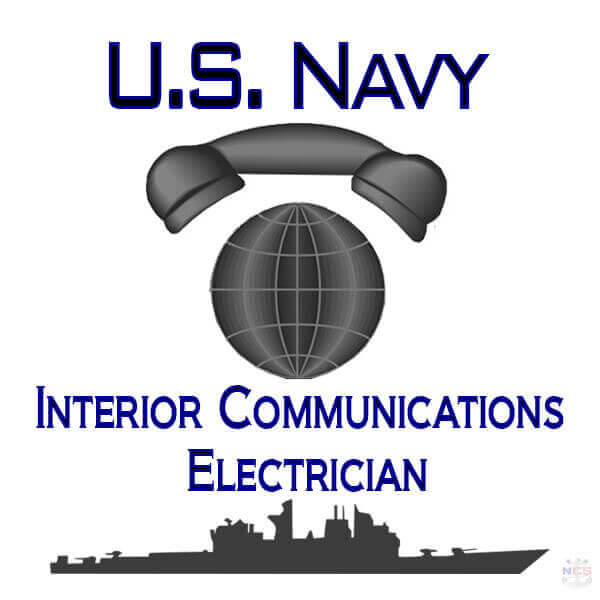 Originally derived from the Electrician's Mate rating, the Interior Communications Electrician rating was established in 1948.
The Navy's computerized personnel system associates the rating name with an alphanumeric Navy Occupational Specialty (NOS) code. For IC, the NOS is B230.
Interior Communications Electricians direct and coordinate the installation, maintenance and repair of interior communications systems on ships and at shore facilities. These systems include communication systems, indicating and navigation systems, visual landing aids for aircraft, alarm, safety, and warning systems.
Interior Communications Electrician class "A" school is approximately 22 weeks long, and the school is located in the Center for Surface Combat Systems, Great Lakes, Illinois. At the completion of school, some interior communications electricians go on to advanced training courses such as gyrocompass and advanced TV maintenance. Others are assigned to duty stations where they can continue learning their rating through on-the-job training.
The active duty Interior Communications Electrician rating requires a 48 month (4 year) minimum enlistment contract.
Interior Communications Electrician (NOS B230)
Interior Communications Electricians operate, coordinate, and perform organizational and intermediate maintenance on alarm, warning, and indicating systems, interior communication systems, ship's speed and steering control systems, power generation and distribution systems, data conversion and distribution systems, aviation monitoring and landing aids, information and training systems, gyroscopic navigation systems, and environmental systems.
ICs interpret and analyze ship's blueprints and system interface diagrams; inspect, test, analyze, and make detailed casualty analysis; and direct repair of electrical, electronic, fiber optic, hydraulic, mechanical, and synchro and servo systems.
Career Sea – Shore Rotation Chart
Rating's Sea (SEA) Shore (SH) Rotation (months)
Rating
SEA1
SEA2
SEA3
SEA4
SEA/SH
IC
60
60
48
48
36/36
SH1
SH2
SH3
SH4
36
36
36
36
Sea tours and shore tours for Sailors that have completed four sea tours will be 36 months at sea followed by 36 ashore until retirement.
Sailors in the Interior Communications Electrician rating can expect to spend more than half their career on sea duty assignment. Sea tour lengths for the IC rating will not involuntarily exceed 60 months for Sailors with less than 20 years of service (YOS) and 48 months for Sailors with more than 20 YOS. Shore tour lengths between sea tours will be set to 36 months long. Manning conditions at sea may require the need to request sea tour extension or shore tour curtailments to ensure all sea duty billets are filled.
Qualifications, Interests, and Working Environment
It is important that people in this rating have manual dexterity with tools, equipment and machines; above average math skills; resourcefulness; an interest in ideas and information; and the ability to express ideas clearly in speaking to others. Helpful qualities include getting along well with people, writing and record-keeping skills, teamwork, physical strength and the ability to do repetitive tasks.
IC's must be U.S. citizens eligible for security clearances. Normal color perception is required. People in the IC rating work in many different situations, at sea and ashore. While most of their work is performed indoors, it may be in a clean or dirty environment of a shop-like nature, and it may be in any kind of climate or temperature. IC's usually work closely with others.
Most systems IC's work on is of the modern solid state electronic type, making the rating a very technical profession. IC ASVAB Test score requirement.
Opportunities for placement in the Interior Communications Electrician rating are good for highly qualified applicants. About 2,200 men and women work in the IC rating.
Personnel in the Interior Communications Electrician rating are paid allowances (BAH, BAS, etc. if eligible) and billet pay (sea pay, etc. if eligible), and military enlisted pay based on years of military service and paygrade.
Credit Recommendations
The American Council on Education recommends that semester hour credits be awarded in the vocational certificate and lower-division bachelor's/associates degree categories for courses taken in this rating on electricity/electronics and applied mathematics.
Date Page Modified: August 27, 2018.