All 9-by-5 feet of the Rose's Kitchen food truck is tucked into a little corner of heaven in Agua Fría village. It's part of a lovely rural cul de sac composed of picnic tables and sunflowers and a twice-weekly farm stand on the grounds of Reunity Farm. In this laid-back spot, families can relax beneath towering trees and dogs can sniff their hellos to each other, blissfully unaware of the social-distancing rules we humans currently have to follow.
And the food Ilana Rose Blankman serves from Rose's Kitchen (folks with the name Rose get a bit of a discount, by the way) complements the scene perfectly: fresh, handmade meals designed to change with the seasons. That means dishes like a galette of the day with a savory local flour crust, veggies and cheese; a farm stand salad with avocado herb dressing; and hearty "fork tacos" on made-to-order tortillas.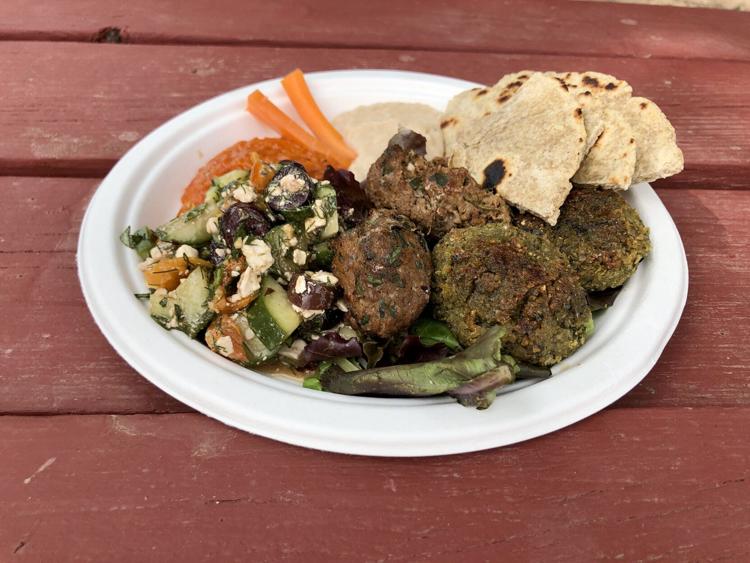 The simple menu has global flair, including a mezze plate ($12) with deeply flavorful dips, sourdough flatbread, Greek-style salad and falafel or kofta. There's also a vegetarian ramen ($10) and a peanut coconut noodle salad bursting with bright herbal and rich peanut flavors and delicate spears and slices of crisp local veggies.
Brunch on Saturday adds dishes such as eggs Florentine on homemade English muffins; huevos rancheros; sourdough rye waffles with red chile honey butter and a fried egg; or local fruit compote and Camino de Paz yogurt. (But come early — it sells out fast.)
This is the first food truck for Blankman, 38, who grew up in Albuquerque and has lived in Santa Fe for 13 years, but she's been in the restaurant industry since age 15. After the pandemic limited her work as a circus teacher and performer, she decided to embrace her love of cooking for others. A connection through Reunity Farm led her to the chance to operate Rose's Kitchen out of the pint-sized food truck.
"It seemed like the universe saying, 'Yes, this is what you're supposed to be doing right now,' " she said.
Her food philosophy: comforting food, not "comfort food."
"I want people to feel really nourished after they eat my food, so it's healthy, but it feeds the soul," she said. And the farm and Santa Fe's abundance of local products help accomplish that. "It's really lovely to have such a close connection between the food coming out of the ground and the food on your plate."
Rose's Kitchen is open from noon to 7:30 p.m. Tuesday and Friday and 10 a.m. to 5 p.m. Saturday at Reunity Farm, 1829 San Ysidro Crossing. The Reunity Farm stand is open seasonally from 3 to 6 p.m. Tuesday and 10 a.m. to 2 p.m. Saturday. Stay up to date at facebook.com/RosesKitchen505.
La Fonda on the Plaza opens rooftop garden
It's La Fonda's secret garden.
The Plaza institution recently opened its Terrace Rooftop Garden Patio to the public after more than 25 years as a large group space for weddings and special events. The La Fonda team has reimagined the tranquil garden patio as a socially distanced open-air destination for drinks and dining.
Chef Lane Warner and his team are grilling traditional summer classics designed to pair with La Fonda's signature margaritas and cold brews. The menus feature a thoughtful mix of New Mexican specialties and non-New Mexican fare.
La Casa Sena reopens
La Casa Sena, 125 E. Palace Ave. Suite 10, reopened Monday with a new Mediterranean menu, showcasing the region's diversity through a series of small plates and entrees. You can have Spanish gazpacho alongside Greek dolmades and pasta carbonara from Italy next to Bacalhau à Brás (Portugese salted cod with olives, eggs and matchstick potatoes).
The restaurant is open from 11 a.m. to 9 p.m. daily. Visit lacasasena.com; call 505-988-9232 or visit OpenTable to make a reservation.
Backroad Pizza launches summer hours
Backroad Pizza, 1807 Second St. No. 1, has given a master class on how to operate a community restaurant in a pandemic. It's handing out its signature thin-crust pizzas (as well as DIY pizza kits) via contactless curbside delivery and has expanded its offerings to include a slew of bulk goods, ranging from dairy products, yeast and flour to coronavirus staples like gloves, sanitizer and masks for adults and kids.
Backroad's summer hours are 11:30 a.m. to 8 p.m. Tuesday through Sunday. Call 505-955-9055 or visit backroadpizza.com.
Museum Hill Cafe hosts dinner series
Is there a prettier place in Santa Fe than Museum Hill? You'll still need to bring your mask, but the new Friday evening dinner series at the Museum Hill Cafe, 710 Camino Lejo, sounds like a great escape right now.
Reservations are between 5 and 7 p.m. to snag a properly distanced table on the patio. There's live piano music, and the cooking is al fresco.
• Izanami is once again offering its omakase chef's tasting menu … and you can get it for takeout, too. (5 to 9 p.m. daily, 21 Ten Thousand Waves Way, tenthousandwaves.com/food)
• Best deal in town? Café Castro is back with its family special: a dozen enchiladas, two sides and five sopapillas, all for 30 bucks. (11 a.m. to 8 p.m. Tuesday through Sunday, carryout only; 2811 Cerrillos Road; cafecastrosf.com)
• Andiamo! has a couple of fun takeout options: On Mondays, grab a par-cooked pepperoni or margherita pizza for curbside pickup, then once you're home, bake it at 350 degrees for 4 to 5 minutes or until the crust is golden. There's also a build-your-own Bolognese kit for two ($28), complete with pasta, sauce, spinach, Parmesan and instructions on how to make culinary magic in just 10 minutes. (5 to close nightly, 322 Garfield St., andiamosantafe.com)
• In recent weeks, Jambo Cafe has been serving its hugely popular offerings from the Hapa food truck (Luna Plaza, 505 Cerillos Road, 505-469-5749), but now the main location (2010 Cerrillos Road No. 2010, 505-473-1269) is open again for takeout with a full menu and some new offerings, too. Hours for both spots are 11 a.m. to 8 p.m. Monday through Saturday. Visit jambocafe.net to see the menus.